It's time for LOAD! Well, not quite yet. It doesn't start till February first. Which means there's still plenty of time for you to sign up. Heck, if you sign up by the seventh I've got a code for you to get $10 off!
This is one of my most favorite things to do in the whole wide web. First of all there are a ton of wonderful people participating who share beautiful, creative pages. Even better, it's lead by one of my favorite scrapbookers ever, the fabulous and funny Lain Ehmann.
It's not a class exactly. It's more of a prompt based challenge. What do you get out of it? Well, if you participate, you get lots of inspiring ideas that frequently take you on unexpected paths to finished scrapbook pages. You make new friends in the online scrapbooking community. And you get lots (and I do mean lots) of pages done.
So, sign up with my affiliate link below and join me and a few hundred other scrapbookers as we get ScrapHappy!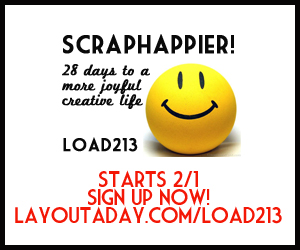 Join us! It will be fun!